On May 18th I took Insanity Certifcation. It was amazing. I walked in pretty nervous. I'm not a fitness instructor or a personal trainer. It was out of my comfort zone. 1/2 the class were already instructors of some sort and knew how to queue people. It was a full day. We kicked off the training with a full Insanity Max Interval workout. We used the music and program workout that we would be teaching to others.
Beachbody hit this one out of the park. I heard from other fitness instructors who said this was their FAVORITE certification by a mile. This was my first one ever and I'm so glad I was introduced to teaching by this program. So easy to queue, so easy to modify and it is not complicated to show people the moves. They give you music and each month you will get a new routine and music sent to you or a gift.
Before and after Insanity certification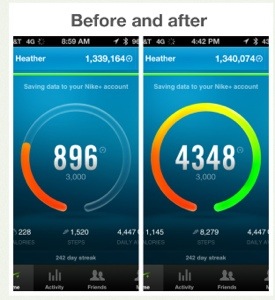 In summary: If you are thinking of becoming a fitness instructor or you already are one then you NEED to do this certification ASAP. There are tons of gyms, rec centers, YMCAs and more who want this class.
If you are a Team Beachbody coach you get 10% off of the class.
If you want to be a coach for the discount sign up here.
If you don't care about that and just want to be certified then go here.
Of course I highly recommend being a coach. Why not? You are in a class full of people who want to take Insanity and could use you to help them.
Can't wait for my certification results so I can be official.